Michael Kenzel's Homepage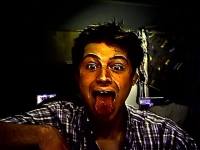 About Me
My name is Michael and I'm a 21 years old male human being. I was born on Monday the 28th of October 1985 in a hospital in Judenburg (upper Styria).
Before studying telematics here at the TU Graz, I have studied engineering at the HTL Zeltweg. As I finished basic military service, I subscribed for telematics in May current year and startet studying. I took the chance to snuffle into university life a bit and already took few exams. So technically I'm already in my 2nd semester here, but actually it's my first one ;).
I grew up in Knittelfeld, which is a small Village in upper Styria. When I was a little boy, I was very interestet in scientific/technical stuff, what actually was the reason for me to go to a school for machine engineering. With the age of 14, i startet to program around a bit in Visual Basic which quickly became my main hobby. I focused on game/graphics programming and, after 2 years, switched to C++, which is my favourite programming language up to now.
For all those reasons and because i don't just want to know about how to program, but how to build the machine itself as well, I decided to study telematics instead of engineering, which was what I actually planned to study some years ago.
Contact Me
Links
---